Brown Royal Non-acid Wheel & Tire Cleaner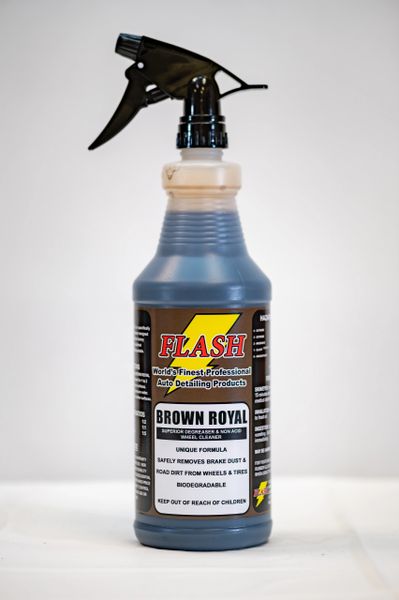 Brown Royal Non-acid Wheel & Tire Cleaner
Brown Royal non-acid wheel & Tire cleaner is an Easy-to-Use touchless cleaner. Brown Royal will remove heavy brake dust from clear coated alloy, aluminum, chrome and painted wheels. Brown Royal wheel cleaner will not streak or etch surfaces. Brown Royal contains a unique polymer agent that actually SHINES the surface as it cleans. There is no cleaner in the world that contains this formulation. Just spray it on the wheel, let it dwell for a minute or two and rinse with high pressure water. No scrubbing wheels (when rinsing with high water pressure). Brown Royal will also clean tires, Whitewalls, engine grease, oil, bugs, tar, paint over spray and contaminates from vehicle surfaces. Brown royal will not harm painted or clear coated surfaces. Brown Royal is not just a Wheel & Tire cleaner. It is a Superior Degreaser that can be used for various cleaning applications.



Brown Royal works great on German wheels, Mercedes, BMW, Audi, Porsche etc. Consumers have been searching for a wheel cleaner that actually works. Many chemical companies claim their wheel cleaners work great. But most dont. The end result is a damaged wheel or a product that does not deliver satisfactory results. All of our products that we manufacture deliver OUTSTANDING results. Try it.

I guarantee you will not be disappointed. Biodegradable.

Brown Royal

 

is the best wheel cleaner in the world!

32 ounce spray bottle.
Reviews